Server rental
selection

configurations

High fault tolerance. Connecting to the server via SSH / RDP / IP-KVM. Flexibility when choosing parameters. We offer a choice of several platforms to host your projects with individual capabilities and parameters.
Rental offers
dedicated servers
Our clients can rent a dedicated server in different price categories. Below are some possibilities and countries where data centers are located.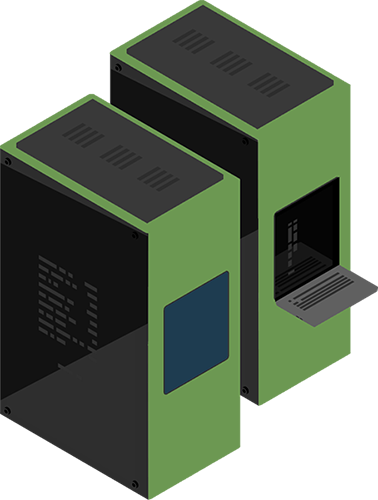 Countries to choose from
Netherlands (Naldwijk)
UK (London)
Germany (Frankfurt)
France (Roubaix, Gravelines)
USA (Dallas)
Canada (Quebec)
Possible parameters
Enterprise class components
Secure WLAN
Upgrade / Downgrade in the future
Hardware RAID Controller
Permanent IP-KVM (iDRAC, iRMC)
Brand suppliers
DELL PowerEdge
Fujitsu PRIMERGY
IBM Lenovo
Supermicro
Hewlett Packard
Rental Solutions
dedicated servers
On our website you can purchase servers in different countries of Europe, Canada or the USA. The most popular of them are presented below.
DELL
SSD SATA NVME
unlimited traffic
up to 10Gbit Internet port
powerful servers
Select server
DELL, Fujitsu
SSD SATA NVME
unlimited traffic
up to 10Gbit Internet port
WLAN, upgrade
Select server
Supermicro
SSD SATA NVME SAS
unlimited traffic
up to 5Gbit Internet port
DDOS protection
Select server
Server control panels
A server on Linux requires special administration skills. The control panel greatly simplifies the process of setting up the operating system, installing the necessary modules, connecting domains and other software. from 5$ /month
ISPmanager Renting a remote server - easy, fast, convenient!
Dedicated, unlike virtual VPS servers, are powerful computers provided by the provider for rental use. All actions to manage, configure or host files require the tenant to have some professional knowledge. Renting a dedicated server from us allows us to simplify all this significantly; we will configure everything ourselves to suit your tasks, and you can easily use the new server as a remote workstation. The enormous capacity of dedicated servers makes it possible to host heavy websites, portals, online stores with high traffic, etc. Often, software is created on such servers, compiled, and complex calculations are run. A physically dedicated server is located in a data center, where it is maintained, operates and communicates, and most importantly, faulty components are replaced free of charge.
Who rents physical dedicated servers?
If an organization or an ordinary user plans a long-term presence in the Internet space, then sooner or later you need to decide on the issue of renting remote hosting for posting information. Buying your own dedicated server requires significant financial investments, and its maintenance requires the presence of competent IT specialists and a separate room. Coming out of this, a more rational solution is to rent servers from a reliable provider. Placement in a proven data center greatly simplifies the client's life; there is no problem with technical support and monitoring the performance of the equipment. Basically, servers are rented by owners of online stores, information portals, and corporate website administrators. The goals can be completely different: from simply hosting a website, processing mail systems, working with databases, using it as a large file storage, organizing vpn, dns, ftp and proxies to 1C accounting. Game lovers prefer to rent dedicated servers on Windows, creating sites for minecraft (minecraft), l2 lineage, WOW, counter strike for joint games of thousands of people around the world. To summarize, renting servers is a fairly profitable solution, in which there are no costs for the purchase of expensive equipment, there is no need to allocate a separate room with special climatic conditions, and there is no need to employ specialists with a high level of technical knowledge.
What should the cost of a server be today?
How much does it cost to rent a dedicated server? The price of a server depends on its configuration (processor, RAM, disks, raid controller), Internet channel width, availability of IP-KVM, ddos protection attacks, fault tolerance, monitoring, administration scheme and other parameters.